Playlists (Audio)
Listen to the tunes organized in ten playlists by Séamus Connolly. Each playlist can be accessed from the right sidebar.
Originally conceived as a set of ten CDs and accompanying book, a collaboration with Boston College Libraries led to the creation of this digital collection. The online format allows for wider outreach, enhanced user engagement, and greater preservation opportunities, while the option of accessing the musical content in ten playlists respects the early organization.
Each audio track that appears in an individual record within this collection, as well as each playlist, can be freely accessed through the Séamus Connolly Collection of Irish Music on SoundCloud. Each playlist has an associated image for all tracks in that playlist. The image creator is attributed at the bottom of each individual playlist page.
Ways to view content while listening to audio:
Click on the title of a track from the SoundCloud player to view artist information in SoundCloud.
After downloading a track or playlist, import the audio into one of the recommended MP3 players (QuickTime, Real, Winamp, iTunes) in order to view title and artist info for each track.
While streaming audio from a playlist (audio) page, click the link at the bottom of the page to browse all related content for that playlist: stories, transcriptions, etc. The "browse content" page should open in a new tab, without interrupting the audio player.
In SoundCloud mobile App, only track titles are visible.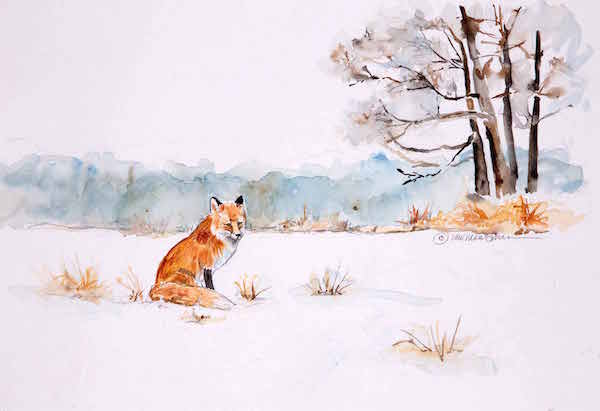 Watercolor: "Small Fox, Big Field" by Leslie Mansmann. See the tune by this name by Eric Eid-Reiner.